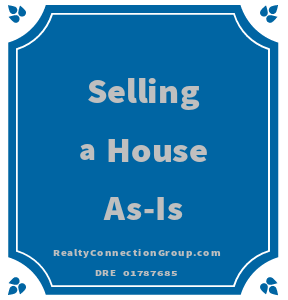 If you are thinking of buying or selling a house as-is, you are in the right place.
When a house is sold in California, it is sold as-is in its present condition as of the date of the offer acceptance. The seller, however, has the obligation, unless exempt, to disclose all material facts and defects of the property regardless if they are selling the house as-is. Also, the buyer, when buying a house as-is, has the right to conduct inspections of the property and to review all documents, reports, and disclosures provided by the seller. 
After all of the inspections have been completed, the buyer can request, in writing, that the seller make the certain repairs, reduce the price of the home, or credit the buyer at closing. However, since the seller is selling the house as-is, they do not have an obligation to make any repairs, reduce the price or credit the buyer at closing, at which time, the buyer can exercise their contingency cancellation rights, if any, per the residential purchase agreement. 
So, (selling) and buying a house as-is can be accompanied with many costly pitfalls if buyers are not careful. As a seller, make sure that you become well-informed about the pros and cons when selling a house as-is so that you are not caught by surprise with unexpected repairs that will prevent you from selling the house for top dollar in the shortest amount of time and with the least amount of obstacles.  And, of course, always disclose everything that you know about the property via the Real Estate Transfer Disclosure Statement provided by your real estate agent to complete. 
NOTE: The buyer can buy a house as-is and remove the home inspection contingency altogether,  which means that they will accept the home as-is regardless of what is disclosed by the seller, what a home inspection report reveals, or what they discover on their own. Removing a home investigation contingency is discouraged when buying a house as-is since the buyer will not be able to cancel the transaction regardless of the condition of the property. 
After watching the Selling house as-is video below, should you have any comments, suggestions, or questions, please let us know.
Please share, subscribe, like or comment.
Do you need to sell your home before you can buy a home?

Easily find out what how much your home may be worth.
To instantly receive a report of the value of your home, please click below.

Please Complete the Form Below
Realty Connection Group | Real Estate Services
8050 Florence Ave. #109
Downey, CA 90240
(800) 659-4610
DRE 01787685
Homes For Sale | Click Below