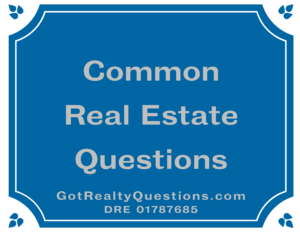 Your One-Stop Shop To Get Your Most Common Real Estate Questions Answered
Whether you are planning to buy a home or sell a home,  it is likely that you need answers to common real estate questions, especially if it's your first time buying or selling a home.  After all, delving into  real estate is a big decision that should not be taken lightly. 
So, we value and appreciate the fact that you stopped by to learn more about what we have to offer as you begin to navigate the real estate industry.  As a result, we take your trust in us seriously and are grateful for the opportunity to serve you.
We are glad and readily available to answer all of your common real estate questions.
We plan to add answers to the most common real estate questions. So, if you don't see your question below, please send us an email or call us directly so we can answer all of your real estate questions.
We promise to deliver
Amazing
real estate service
Common Real Estate Questions
Home Seller Real Estate Questions
How much is my home worth?
Great question. When selling your home, it is crucial to make sure that you are setting the price at market price or slightly below to ensure that you receive plenty of interested buyers so that you can then negotiate a better price depending on the market conditions.   Having multiple interested buyers will give you the upper hand during negotiations.  
A great real estate professional will be able to help you determine the market value of your home. However, it is your responsibility and obligation to set the sales price. 
To obtain an idea of what your home is worth, you can request a market analysis report via this link:
Request My Free Home Value Report
Can I sell a home on my own?
Am I obligated to make any repairs?
Homebuyer Real Estate Questions
Do I have to pay a Realtor to help me buy a home?
We don't charge buyers an upfront fee when we help them buy a home.  When we help a buyer buy a home, we get paid after close of escrow (when the sales transaction is closed and you have taken title to the property) through the funds from the sale. We can show a buyer 100 homes and we would not get paid anything for the time and effort — unless we get them into a home.
Again, we don't get paid until we successfully help you close on the purchase of your home. Most importantly, you as the buyer, will never have to write us a check or pay us cash directly even if you don't buy a home for whatever reason.
So, put simply, you as the buyer, do not have to pay us at Realty Connection Group, an upfront fee nor do you have to write us a check at closing. 
Do I need a big down payment to buy a home?
Do I need a credit score above 700 to buy a home?
When I purchase a home, how do I take title?
Typically, how long does the homebuying process last?
If I have bad credit, can I still buy a home?
What are the Homebuying Steps?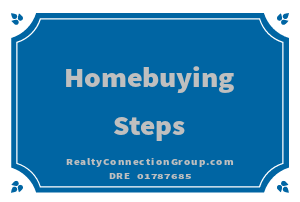 Deciding to buy a home is one of the biggest purchases that most people will ever make in their lifetime.  As such, it is important that you become well-informed on what are the homebuying steps so that you:
Can be well prepared

Are not caught by surprise during the process

Have a smooth escrow/homebuying process

Greatly reduce the anxiety and stress
Before you take any of the homebuying steps, though, you will need — at the minimum — a two year work history working either at the same company or in the same industry if you have changed employers or two years self-employment in the same industry.
Next, know your credit profile.  You can check your credit at experian.com or annualcreditreport.com for free and without lowering your score.
Review your credit to know your score, check for inconsistencies, errors, lates, collections, etc. Once you know your credit situation, work on removing any negative items, if that is even possible or an option.  Although you can do this on your own, there are credit repair companies who will help you with this if you wish to go this route. 
Although some lenders will accept a 580 credit score, most lenders will require a 620 score or higher.  Of course, the higher the score, the better terms and interest rate that you will receive. 
If you have a fair to excellent credit score, the two years work history in the same or similar line of work, and savings for a down payment, you can now begin to take the steps to buying  home.
The Homebuying Steps & Process
Know What You Want
Write down where you want to live, how many bedrooms and bathrooms you need, proximity to shopping, freeways, fixer upper or ready to move in, etc.  Knowing exactly what you want in your next home will help you and your realtor as you begin searching and visiting  homes.
Contact a trusted real estate broker/agent.
A knowledgeable and professional real estate agent will help you navigate the homebuying process by answering your questions, referring mortgage lenders, inspectors, and guiding you step-by-step until you become a homeowner.
Contact your mortgage lender or ask your real estate professional for a recommendation
The lender will provide you with a loan approval letter after they review your credit report, assets(savings), income and debt. This letter will be required when you begin to submit offers on homes because it shows the home seller that a lender has reviewed your overall financial situation, credit profile and has determined that you are a good credit risk.  
Go Home Shopping
With the loan approval letter in hand, you and your realtor can take action on one of the most fun homebuying steps —  visit homes and make offers. Once an offer is accepted, the escrow/buying process begins and the clock starts ticking. So, make sure that you respond right away to requests for information/documents via emails, text messages and voice messages. There are deadlines that you must meet in order to close on time and, ultimately, protect your earnest money deposit (or EMD as us realtors call it). The EMD is the good faith deposit that you provide to escrow to show the seller that you mean business.
Conduct your home inspection & appraisal
Conduct the general home inspection (and any other inspections that may be necessary) and have an appraisal completed. The appraisal is conducted by the bank to ensure that the amount that you offered is not more than the market value of the home. 
Prepare to close
Once the home inspection and the appraisal have been completed and everything turned out fine, now you can prepare to close.  Prior to closing, though, you will have to purchase homeowners insurance. 
Conduct the final walkthrough
Conduct the final walkthrough at least 5 days prior to close of escrow to make sure that the home is in the same condition as when you first visited it and that all negotiated repairs have been completed by the seller.
Sign closing documents.
Congratulations! You are now a homeowner.


Submit Your Common Real Estate Questions Below
Realty Connection Group | Real Estate Services
8050 Florence Ave. #109
Downey, CA 90240
(800) 659-4610
DRE 01787685

Contact us so that we can answer your real estate questions
Homes For Sale | Click Below
Our Los Angeles County Property Management Real Estate Brokerage Serves the Following California Cities:
Signal Hill Residential Management